Gigabyte Gaming GT Desktop Review
By Derek Forrest 31 July 2017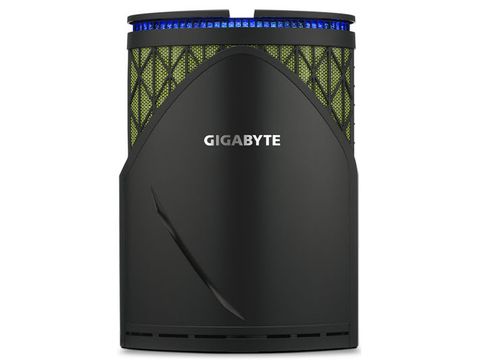 Our Verdict
Gigabyte's Brix Gaming GT desktop PC maybe on borrowed time with its aging Intel Core i7-6700K processor, but finding a SFF gaming rig with an equally powerful CPU and a full-sized GTX 1070 GPU for under $1,100 would be a tough task. The Gaming GT stands out for more than just its price alone; the design is unique and eye catching, and the custom cooling system manages to keep the desktop components from throttling (although barely, and it's quite loud when doing so). You can't overclock, despite the unlocked CPU and Z170 chipset, but the average consumer will likely (and understandably) not miss this feature. We'd have considered this a contender when it originally debuted at $1,700, but now that the price has dropped (along with our jaws), we're giving it a Tom's Hardware Approved Award, and would highly suggest grabbing it before its gone for good.
Price/Performance
Form factor
Unique cooling system
Against
Loud under load
High temperatures
Cannot be overclocked
Introduction & Product Tour
Introduction & Product Tour
Gigabyte revealed its GB-GZ1DTi7 Gaming GT desktop computer earlier this year at CES, and we're sending Intel's 6 th -generation Core processors off in style with a final look at the aging chipset in Gigabyte's tall, sleek, and shiny small form factor (SFF) gaming PC.
At $1099, the green-accented oddity may be an attractive buy for performance-hungry gamers, and Gigabyte certainly did everything in its power to stand out in the SFF gaming PC market with its BRIX-branded GB-GZ1DTi7 Gaming GT. Let's see what it can do.
Specifications
Exterior
The Gigabyte GB-GZ1DTi7 Gaming GT is unlike any PC we've encountered before. For lack of a better description, it resembles a 10L trash can, devoid of any windowed side panels or boxy edges that many SFF PCs embrace. The company logo is prominently displayed on the sides of the device, and it has a sleek yet edgy look with the green cyber web-like accents. The plastic chassis is surprisingly sturdy, albeit awkwardly weighted.
The cornerstone of this device is its automated exhaust system. The top of the case features two panels that automatically open to vent heat out of the chassis when the CPU reaches 80°C. However, it doesn't automatically close after it cools back down, and you have to push down on the panels manually (not so automated after all). RGB LED lighting adorns the top vent, and it definitely stands out when the vents are open. We're not entirely sure how this cooling system will affect performance, but our benchmarks should let us know the full story.
The front panel (which is little more than a USB port in width) features two USB 3.0 ports, in addition to mic-in and headphone-out 3.5mm audio jacks. The rear I/O, which is hidden by a breakaway panel, consists of three USB 3.0 ports and USB 3.1 (Gen 2) Type-C and Type-A ports (one each). Display output is provided by the dedicated GPU's HDMI 2.0, DVI-D, and three DisplayPort 1.2 interfaces. The motherboard also features an HDMI 1.4 output, but you won't be needing that unless you want to chain multiple displays together.
All of the GPU's display outputs and the system's power connector reside on the underside of the chassis. Fortunately, Gigabyte included an angled DisplayPort adapter, an HDMI extension cable, and a DVI-D cable (with an angled plug) to comfortably connect your display. Even the power cable is angled. The trick is to feed all the cables out of the thin gap in the chassis at the bottom rear of the case, allowing you to set the Gaming GT upright without sitting on a stray cable and still connecting your display and power plug.
Interior
Believe it or not, the Gigabyte Gaming GT desktop is upgradable. To open the device, we had to remove the seven screws (the only visible screws on the entire device) on the underside of the case (where the GPU outputs and power connector are) and slide the side panels upward (away from the bottom). The bottom can also detach to give access to the GPU (in case you want to replace it down the line), but we left it on so we could set the device upright for these photos.
The right side of the device houses the motherboard, giving you direct access to the memory slots, CPU cooler, and M.2 storage. Four heat pipes pull heat away from the processor to other plates and cooling fins, with an 80mm fan pulling air up from the bottom of the chassis and pushing it up towards the vents at the top. The left side has two 2.5″ drive bays (one of which is occupied with a 1TB 7,200RPM HDD) and the graphics card.
One could expect that a system with an unlocked processor and overclockable chipset would, naturally, overclock. However, the Intel Core i7-6700K and Z170 chipset motherboard are devoid of any overclocking capabilities, leaving the CPU's clock speed at its stock 4.0GHz base clock and 4.2GHz max turbo frequency. We even reached out to Gigabyte to confirm this, and the company's reply is as follows:
"The BIOS doesn't allow for overclocking. It is built upon a BRIX solution with BRIX power phases. Overclocking is not recommended due to thermal constraints and VRM stability so we didn't allow the option to do so."
Despite the seemingly stunted Z170 platform (so much for overclocking), the memory and storage form factors are well-suited for a SFF gaming PC, with the Gigabyte Gaming GT featuring 16GB (2 x 8GB) of DDR4-2133 SODIMM memory and a 240GB Transcend MTS800 SATA III M.2 SSD. A 2.5" 1TB 7,200RPM HDD supports the conservative solid-state storage capacity with enough room for a sizable game library and applications or files that don't require the speed of an SSD. There's also room for another 2.5″ drive, so you can always upgrade later on.
Most notably, the tall-yet-small Gaming GT somehow houses a full-sized company-branded GPU: a Gigabyte GeForce GTX 1070 G1 Gaming 8GB graphics card. Moreover, this is the triple-fan (bigger) version of the GTX 1070 G1, which features higher clock rates than company's dual-fan model. However, it takes up more of the little precious space available inside the case. We're not sure what this will mean for thermal performance, but it's decidedly ambitious of Gigabyte to go with a GPU only slightly smaller than the longest point of the chassis.
The Gaming GT features a 400W flex-ATX power supply, which is below Nvidia's recommendation of a 500W PSU for the GTX 1070 (including the Gigabyte G1 Gaming). This could result in throttling from either the CPU or GPU (depending on workload and power demand), but we'll have to wait to see the benchmarks before making any certain declarations as to how this will affect performance (if at all).
Software & Accessories
Gigabyte loaded the Gaming GT Desktop with some useful software (we certainly wouldn't call it bloatware), including Adobe Reader XI, Nvidia GeForce Experience, Intel HD Graphics Center, and the Killer Network Manager application. The company also ships the Gaming GT with its Smart USB Backup software, which will create recovery media with a USB flash drive. Gigabyte's Ambient LED application controls the RGB lighting at the top of the chassis, giving you the ability to change the colors, effects, and time intervals.
Cистемный блок GIGABYTE Brix (GB-GZ1DTi7-1070-NK)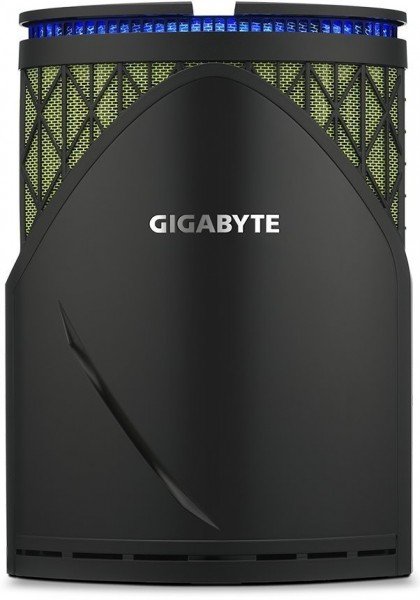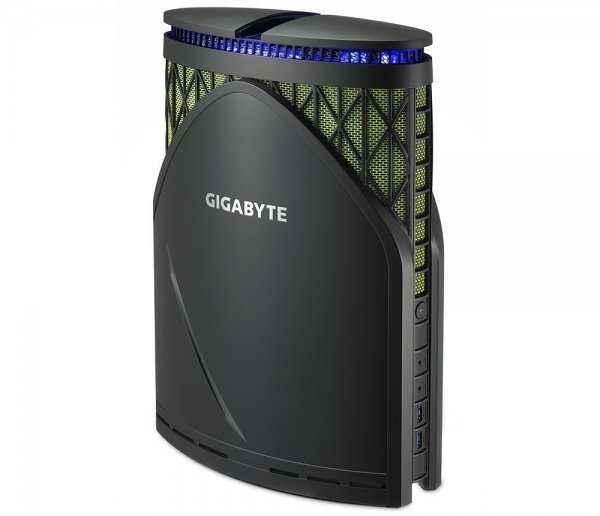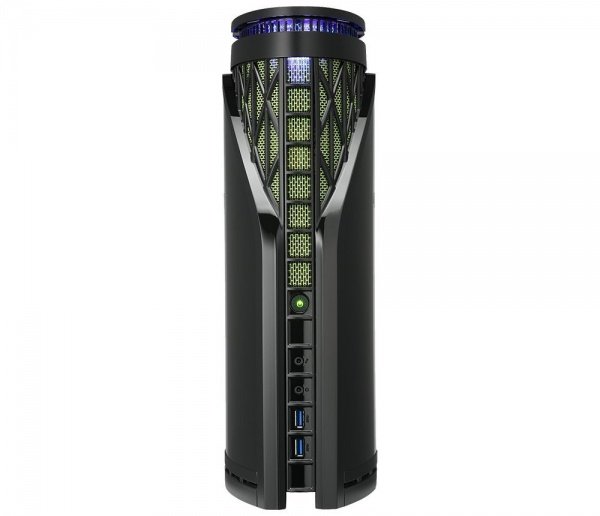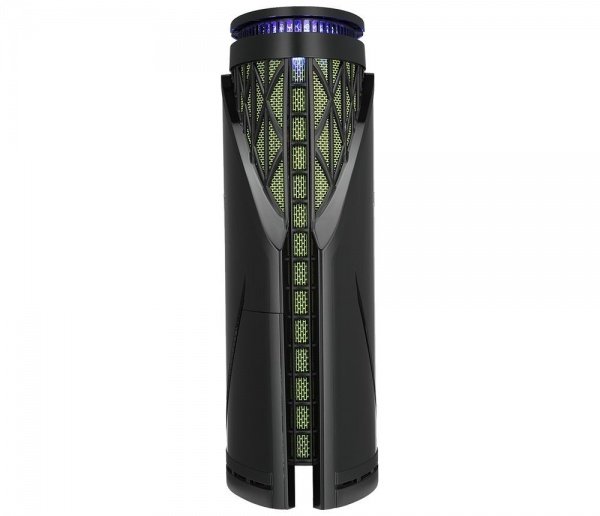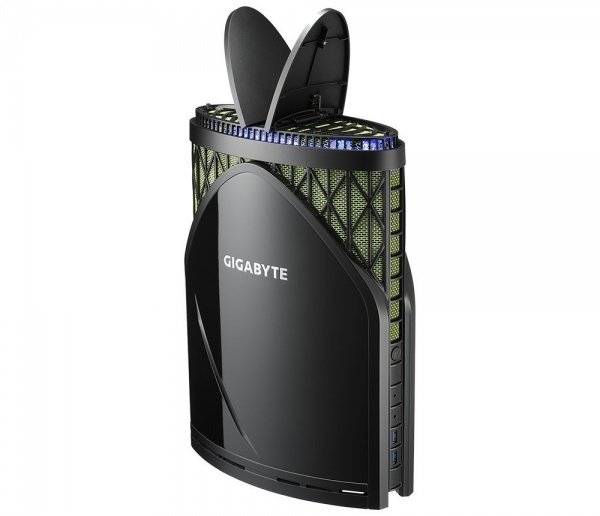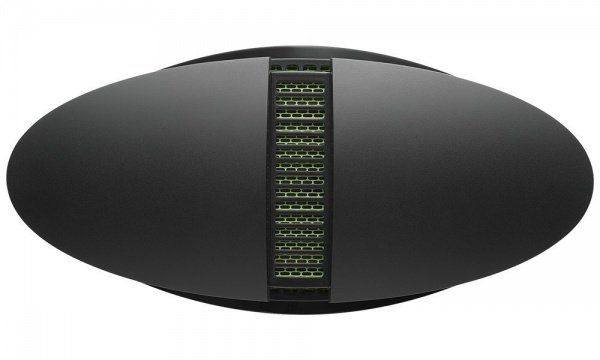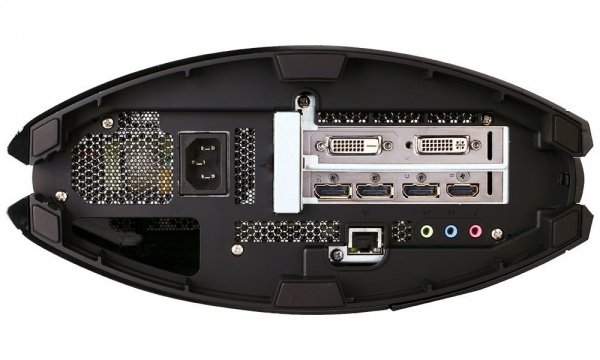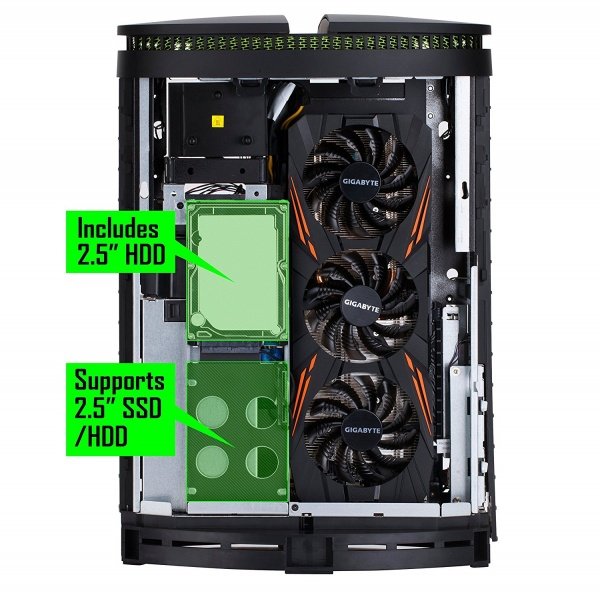 Предустановленная ОС Windows 10 Home
Характеристики Cистемный блок GIGABYTE Brix (GB-GZ1DTi7-1070-NK)
Описание Cистемный блок GIGABYTE Brix (GB-GZ1DTi7-1070-NK)
Процессор Intel® Core™ 6-поколения
Современные игровые ПК GIGABYTE оснащенные процессорами Intel Core 6-поколения выгодно отличаются от типовых систем и по производительности, и по габаритам. Установленный на таком компьютере 4-ядерный ЦП Intel Core i7-6700K, работающий на базовой частоте 4,0 ГГц вместе с технологией Intel Turbo Boost 2.0, обеспечивает дополнительный прирост производительности в тех случаях, когда это необходимо.
Технология Hyper-Threading позволяет сократить время отклика, повышая отзывчивость системы. Благодаря технологии Hyper Threading, в рамках сценария многозадачности, каждое ядро ЦП может одновременно решать две задачи, при этом на выполнение многопоточного приложения затрачивается меньшее время.
Потрясающие визуальные эффекты
Видеоподсистема на базе архитектуры NVIDIA® Pascal
Благодаря дискретной графике NVIDIA® GeForce® GTX™ 1070, этот ПК по праву можно назвать полноценной и мощной игровой платформой. Среди преимуществ видеоподсистемы передовая графическая архитектура и целый комплекс технологических достижений, в частности 16-нм технология FinFET, а также беспрецедентно высокая тактовая частота и пропускная способность видеопамяти GDDR5X / GDDR5, которые обеспечивают требуемую производительность и плавную смену кадров в играх фоне впечатляющей энергоэффективности.
Ко встрече с VR и 4K готовы
Графические процессоры GeForce GTX 1080 и GTX 1070 демонстрируют производительность высочайшего уровня, обеспечивая совместимость с VR-приложениями и взаимодействие с контентом формата 4K. В рамках концепции Plug-and-play система готова к подключению известных гарнитур и позволяет легко погрузиться в мир VR.
Коммуникации без компромиссов
Thunderbolt™ 3 – самое скоростное кабельное соединение 40 Гбит/с
GIGABYTE предусмотрела все распространенные варианты соединений. Разъем Type-C интерфейса Thunderbolt 3 обратно совместим с устройствами Thunderbolt, дисплеями и поддерживает широкий ассортимент периферийных устройств. Скорость передачи данных составляет 40 Гбит/с, что в четыре раза превосходит быстродействие интерфейса USB 3.1. На практике это позволяет скопировать фильм в формате 4К менее чем за 30 секунд.
Порт интерфейса Thunderbolt 3 позволяет подключать в цепочку до 6 устройств, в том числе внешнюю plug 'n' play графику и два 4K-монитора, выполнить зарядку мобильных устройств намного быстрее альтернативных решений, способен выступить в качестве 10-Гбит Ethernet-соединения между компьютерами и многое другое. Это порт, который действительно умеет все!
Во власти скорости – 802.11ac Wi-Fi, Bluetooth 4.2 и Gigabit Ethernet
Этот игровой ПК способен предложить пользователю все самое необходимое. Встроенные модули 802.11ac и Bluetooth 4.2 обеспечивают взаимодействие системы с мобильными устройствами и аксессуарами, в любой удобный для пользователей момент – все работает быстрее, чем когда-либо прежде. Контроллер Gigabit Ethernet призван ускорить обмен данными между совместимыми устройствами проводной локальной сети, например, при передаче больших файлов.
Шагни в будущее – USB 3.1 и USB Type-C™
Заявленная поддержка интерфейсов USB 3.0 / USB 3.1 и реализация USB Type-C открывают для пользователи возможность оценить скорость и простоту подключения устройств новейших стандартов, вне зависимости от типа разъема порта USB – Type-A или симметричный Type-C.
Непревзойденная комбинация SSD и HDD
На игровом мини-ПК GIGABYTE установлен жесткий диск емкостью 1 Tбайт и SSD-накопитель M.2 SATA емкостью 240 Гбайт, что позволяет игрокам хранить на жестком диске мультимедийные файлы большого размера и устанавливать на твердотельный накопитель программное обеспечение, для которого требование к скорости загрузки имеет первостепенное значение, например, операционная система, приложения для редактирования видео, игры и т. д. Реализована поддержка двух 2,5-дюйм SSD-накопителей или двух жестких дисков с интерфейсом SATA, а также M.2 SSD-накопителя, при этом разъем M.2 задействует PCIe / SATA3 соединения. Хорошо сбалансированная дисковая подсистема игрового ПК GIGABYTE обеспечивает требуемое быстродействие и способна хранить значительные объемы данных, удовлетворяя требования самых взыскательных игроков.
Настраиваемая подсветка Ambient LED
Игровой мини-ПК GIGABYTE стал еще более привлекательным за счет ореола, создаваемого RGB светодиодами. Режимами свечения можно управлять с помощью фирменной утилиты Ambient LED в составе набора приложений GIGABYTE APP Center. На основе собственных предпочтений пользователи могут выбрать для световой составляющей любой из реализованных режимов, в частности, ритмичный, импульсный и постоянного свечения.
Рациональное охлаждение
Чтобы сделать охлаждение компьютера еще более эффективным, инженеры GIGABYTE для борьбы с перегревом компонентов предложили оригинальный конструктив корпуса ПК, в частности, люки-плавники в его верхней части, через которые нагретый воздух выводится наружу.
Изящное подключение
В корпусе игрового мини-ПК GIGABYTE предусмотрена специальная секция, в которую можно уложить все интерфейсные и силовые кабели, в том числе аудио и видеоподсистемы, Ethernet, а также кабель блока питания, соблюдая порядок на рабочем столе и не нарушая эстетики интерьера.
Gigabyte PC (GB-GZ1DTi7-1070) review: A powerhouse PC diminished by noisy fans
You'll know when this machine is running.
Senior Editor, PCWorld |
Today's Best Tech Deals
Picked by PCWorld's Editors
Top Deals On Great Products
Picked by Techconnect's Editors
Gigabyte PC (GB-GZ1DTi7-1070-NK-GW)
Apparently, a Brix can change quite a bit in appearance and still remain a Brix. When Gigabyte first launched the line, it was a reference to lookalike versions of Intel's Next-Unit-of-Computing (NUC) systems: bare-bones machines in the form of 4×4-inch blocks. Then it expanded to encompass teeny-tiny tower versions of said mini-PCs (like the Brix Gaming UHD).
Now the term includes the Gigabyte PC, a 10-liter small-form-factor PC. This "Gaming GT" line of Brix systems sports full desktop-sized CPUs and GPUs, and sells as complete machines with Windows 10 Home installed.
This addition to the Brix lineup is a little surprising, given the history of itty-bitty systems that you had to kit out yourself. But more startling (and disappointing) is the mixed experience of using the Gigabyte PC: You get great performance, but with the cost of a lot of fan noise.
Chassis and ports
Given the history of Brix machines that blasted so shrilly you could hear them from clear across a house, you could argue that the Gigabyte PC is indeed a chip off the old block. Its level of noise varies between loud and shrill during CPU loads, and just loud during GPU loads.
But unlike its smaller siblings, you can't dismiss the Gigabyte PC as easily to a sound-dampening cubby—this machine is meant to be seen. Besides the neon-green mesh and programmable LEDs, the Gigabyte PC features an attention-grabbing venting system: Once internal temperatures reach a certain point, the two flaps up top should automatically lift open.
Now, our review unit didn't actually do this automatically, not even when I hammered on it with Prime95 and Furmark. My guess is that because our unit came to us before CES, the utility or BIOS settting that kicks the doors open wasn't ready yet. But when I gently experimented with manually opening the flaps to see how it affected fan noise (spoiler: it didn't), the look turned heads, for sure. More than one person in our office stopped and inspected the Gigabyte PC as I ran benchmarks.
Port placement also is uniquely tailored for a life of sitting out in the open. You'll only see a handful of inputs along one of the narrow sides of the machine: separate headphone and microphone jacks, and two USB 3.0 Type-A ports. It's equivalent to what you'd find on the front or top of a standard desktop case.
The bulk of the ports live underneath a panel on one of the case's broad sides, as well as along the bottom of the machine. Under the side panel are an HDMI port, three USB 3.0 Type-A ports, a Thunderbolt 3/USB 3.1 Type-C port, and a DC-in power jack, while the bottom section holds a power connector, audio jacks, a gigabit ethernet jack, and the included GTX 1070's video connectors (three DisplayPort, and one each DVI-A, DVI-D, and HDMI). All wires feed out from the bottom of the case—an opening exists on each narrow side for routing. The design keeps this small system from becoming dominated by plugs and wires.
Of course, looks might not be enough to entice someone to keep a machine on a desk. But I'd still be hesitant to hide this machine away, even if I hated its appearance. Opening those vents failed to really affect fan noise and internal temperatures, and tucking it somewhere with limited air flow might be a bad idea. It's pretty densely packed inside.
Specs and pricing
Our configuration came fully stuffed with high-end hardware: an overclockable Intel Core i7-6700K Skylake processor, an ever-so-slightly overclocked desktop Nvidia GTX 1070 graphics card, 16GB of DDR4/2133 RAM, a 256GB Transcend SATA 6Gbps SSD, and a 1TB hard-disk drive from HGST. Also included is an Intel Wireless-AC 3165NGW dual-band card.
Gigabyte quoted us a price of roughly $1,700 at press time for our review unit, but that may not be the final amount, as the official version of this Gigabyte PC (the GB-GZ1DTi7-1070-NK-GW) comes with a 240GB SSD. Regardless, it'll cost more than a comparable DIY small-form factor build, which would run about $1,485 to $1,510.
A quick glance at Newegg shows current prices of about $330 for the processor, $430 for a similar graphics card, $100 for RAM, $100 for the SSD, $60 for the hard disk drive, $150 for a motherboard, $120 for a gold-rated modular 600W power supply, $75-$100 for a mini-ITX case, and $120 for a retail copy of Windows 10 Home. You're definitely paying a little bit of a premium.
Performance
Of course, you can't exactly replicate the ultra-compact nature of this machine with standard off-the-shelf parts. And if money doesn't matter overly much to you, you do get all the performance you'd expect out of the Gigabyte PC's included hardware, even despite its cramped quarters.
For our tests, we left the CPU at its stock speed of 4GHz, as we don't expect the chip to overclock much. Space is tight in this machine, and CPU temps rose to about 100°C during stress testing. It stayed stable there at both the 60-minute and 90-minute marks of running Prime95, but not much of a margin exists for pushing up the clock speed. The GTX 1070 graphics card also ran at its default settings, which were a slightly overclocked 1,595MHz base speed and 1,785MHz boost speed.
Cinebench R15
The start of our benchmark gauntlet was Maxon's Cinebench R15, which leans heavily on the CPU for a few minutes while the test renders a 3D scene. When we run this test, we don't expect to see much of a difference between similarly configured PCs. However, if the results do look unusual, it can indicate either an unexpected design philosophy or actual issues.
In the case of the Gigabyte PC, its score closely hews to those of other small form factor PCs with the same processor. It technically outdoes the soon-to-be-reviewed Cerise PC by a tiny margin, but stays just behind the Alienware X51. The X51's performance is noteworthy because of how quietly the machine runs—at a soft hum, versus the Gigabyte PC's audible blast of fans.
Handbrake 0.9.9
While Cinebench shines a light on how a machine handles short bursts of CPU activity, our Handbrake benchmark reveals how a system's processor handles extended loads. This real-world encoding test involves taking a 30GB MKV file and using Handbrake's Android Tablet preset to crunch it down into a much-smaller MP4. It hammers hard on a CPU and scales well with core count.
The Gigabyte's Core i7-6700K should chew through its task in under 40 minutes, which it does. Overall, the Gigabyte PC, Alienware X51, and the Cerise all manage to finish the task in about the same amount of time. The Alienware X51, though, still stays quieter throughout, and that difference makes the Gigabyte PC's performance a tiny bit disappointing.
3DMark Fire Strike
Why Fire Strike, which is designed for systems with less powerful graphics cards, and not Fire Strike Extreme or even Fire Strike Ultra? Well, I wanted to include our PCWorld zero-point machine (and its GTX 980) in our chart to give broader context to the Gigabyte PC's performance, but it was temporarily out of commission and unable to cough up a Fire Strike Ultra result. So, I had to fall back on its existing Fire Strike score.
Though this synthetic test went a little easier on the Gigabyte PC than its Extreme or Ultra variants, you can still see that this PC's GTX 1070 keeps even pace with those in the Cerise and Dell's XPS Tower. That card also handily lays a beat down on the GTX 980 in our zero-point machine—solid proof of that monumental leap from Maxwell to Pascal. As for the Alienware X51, it might be quieter, but its more modest last-gen GTX 960 relegates it to the bottom of the heap in this benchmark.
Tomb Raider
Moving on to a real game, we pulled up the creaky but still reliable Tomb Raider. At four years old, it should be an easy task for the systems running Pascal graphics cards—and it is, though the Gigabyte PC still blasts its GTX 1070's fans.
In fact, that's probably the most interesting part about all of these results. The Gigabyte PC edges out its fellow GTX 1070 contemporaries by a small margin—some more than others, because games can sometimes rely on the CPU, too. But the noise! You'd think that with an older game, Gigabyte's machine wouldn't work its fans so hard, but that's not the case. Though the sound isn't shrill, like when the CPU's under load, it's still loud.
That said, getting over 90 fps at 2560×1600 is pretty sweet. That's Pascal for you.
Rise of the Tomb Raider
Moving on to a newer game shows more of the GTX 1070's limits. The sequel to Tomb Raider is just over a year old and features some incredibly pretty graphics. Accordingly, playing it at 2560×1600 is much more punishing.
Still, you get framerates above that desired threshold of 60 fps. In fact, the Gigabyte PC even manages to lead the pack. Those noisy fans do enable solid performance, because Gigabyte's gigantic Brix machine is able to edge out a micro-ATX build with more airflow (the Avant Tower).
Conclusion
The Gigabyte PC is a powerhouse. The problem is that despite performing so well, it's hard to ignore how noisy it is.
Granted, what's a headache-inducing din for one person can be a bearable murmur for someone else. But while this oversized Brix isn't nearly as shrill as some of its tinier (and older) siblings, it's still clearly audible. Every single coworker that stopped to examine it would comment about its design, compliment its color scheme, prod at its flaps. and then remark on the roar of its fans.
It's a real shame, because the Gigabyte PC seemed poised to fill the void of Alienware's discontinued X51: a ready-to-go gaming PC that was sleek, compact, quiet, relatively affordable, and bursting with performance. Instead, it's best suited for people who don't mind turning up the volume on their speakers or headsets.
The Alienware X51 (left) and Gigabyte PC GZ1DTi7-1070 (right), side by side.
GIGABYTE BRIX GB-GZ1DTi7-1070-NK (rev. 1.0) Intel Z170 Ultra Compact PC Kit
Sold and Shipped by Newegg
6th Generation Intel Core i7-6700K
GeForce GTX 1070 G1 Gaming 8GB
16GB DDR4 SO-DIMM
Approximately 10L (276x384x128mm)
Intel Dual Band Wireless-AC 3165NGW
Specifications
Warranty & Returns
Reviews
Q&A
Learn more about the GIGABYTE GB-GZ1DTi7-1070-NK (rev. 1.0)
General
CPU Supported
Chipset
Memory Supported
Expansion Slots
Storage
Graphics
Audio
Communications
Extension Bays
Front Panel Ports
Back Panel Ports
Power Supply
Physical SPEC
Features
| Features * Product may vary based on local distribution.
6th Generation Intel Core i7-6700K
16GB DDR4 SO-DIMM
1 x 240GB M.2 SSD, 1 x 2.5″ 1TB HDD 7200rpm
Approximately 10L (276 x 384 x 128mm)
GeForce GTX 1070 G1 Gaming 8GB
Intel Dual Band Wireless-AC 3165NGW
Qualcomm Atheros Killer E2400 Gigabit LAN
1 x Thunderbolt 3 (USB Type-C, backwards compatible with USB 3.1), 1 x USB 3.1 Type-A Slot
3 x USB 3.0 Type A Slot
Operating System: Windows 10 Home
Additional Information
Warranty
Limited Warranty period (parts): 3 years
Limited Warranty period (labor): 3 years
Read full details
Manufacturer Contact Info
Manufacturer Product Page |
Website: https://www.gigabyte.com/ |
Support Phone: 1-626-854-9338
Support Website |
View other products from GIGABYTE
Return Policies

Return for refund within: 30 days
Return for replacement within: 30 days

This item is covered by Newegg.com's Standard Return Policy.
Pros: SFF 10L
Up to 32GB Ram
Full sized GTX 1070
Fast performance
I/O galore
Fairly up-gradable compared to competitors
Awesome cable management
Unique design
Cons: Love it or hate it design
Fairly noisy idle and very loud under loud
Gets very warm
No included keyboard and mouse
Not a huge deal but 6th gen processor
Overall Review: At $17000 MSRP this unit would be a tough sell. I missed the sale for when the unit went for $1K, but at $1299 I still think you are getting quite the value compared to a MSI Trident 3 Arctic at $1500 or a Corsair One at $1800. The unit ships with a fairly clean copy of W10 Home and boot times are fast. The highlighter green mesh isn't as obnoxious as I thought it would be and the lack of gamer red is refreshing. The opening vents are a cool concept but cooling and fan noise could be better, since the system gets hot and under load the unit is loud, like multiple hairdryers on max loud. I/O is really good. At the moment I have the unit in my living room and while some sites have said it looks like a modded PS4, the unit only sits vertically and is vastly bigger than a PS4, but still is small enough for living room VR. Since the computer sits vertically all the cables run under the computer and are hidden so cable management is beautiful. Shipping to the NY Metro area was insanely fast since it shipped from their NJ warehouse. Overall I think this is a good compromise between Corsair's, MSI, Asus, and other SFF desktops but just be aware that the system when heavy gaming gets loud.
Edit: I was able finally able to obtain the unit at $1,000 once it went back on sale for $1,000 but it was like pulling teeth trying to get Newegg to honor the price. Eventually they allowed me to return my 1st unit for a refund so I could buy the 2nd unit at the sale price. I was able to upgrade the GPU to a EVGA GTX 1080 SC ACX 3.0. Overall I just gutted the system for parts and built a new system since original system got so hot and was so loud due to little to no airflow. Also note the memory is SO-DIMM and the motherboard is custom. The system also had a problem recognizing my Pixio monitor. When I booted up or restarted the PC with the monitor already on it would not recognize the monitor and display no signal. In order to work I would need to startup the computer with the monitor off until it reached the login screen. I tried multiple cables, updated all drivers, and even exchanged my monitor for a new one. However when I tried the monitor with my laptop and Corsair Bulldog 2.0 it worked perfectly.
Pros: -With the sale price (1099), this is just about cheaper than the sum of its parts, even with black friday sales.
-The form factor is fantastic for a living room home media center, that will occasionally need to be used for games on the TV, but mostly for video streaming.
Cons: -Turns on briefly, fans spin, then the machine shuts down after less than 10 seconds.
Overall Review: Will try to get this replaced, then update review.
Pros: Fast, beautiful.
Cons: This thing was NOT designed to run a GTX 1070 inside. too hot. The vents go noisy as crazy. way too loud. heard vents like this only in server rooms.
Mini PC Gigabyte GB-GZ1DTi7-1070-NK – i7-7700K, 16GB DDR4, GF GTX 1070, 1TB HDD, 240GB SSD, Bluetooth, GIGABIT LAN, Intel Dual Band Wireless-AC, USB, HDMI, 3YR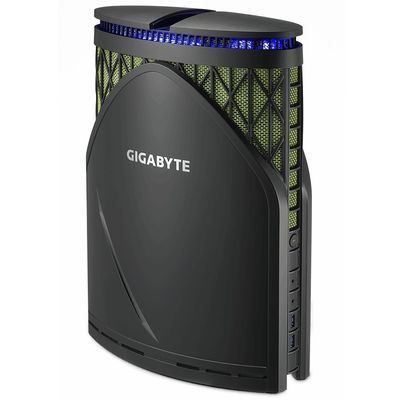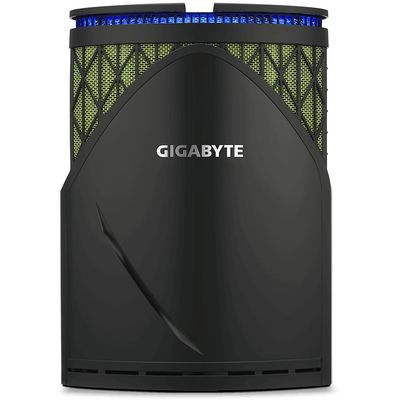 Наведите на картинку для увеличения


Модель процессора i7-7700K
Количество ядер процессора 4
Тактовая частота процессора 4 ГГц
Оперативная память 16 GB
Емкость жесткого диска 1000 ГБ
Объем SSD 240 GB
Модель встроенного графического адаптера Intel
Модель дискретного графического адаптера NVIDIA GeForce GTX 1070
Все характеристики
Sixth-Generation Intel® Core™ Processor
With the sixth-generation Intel Core processor, the GIGABYTE Gaming PC can outperform systems in both size and performance. Already installed in the PC is an Intel i7-6700K processor, operating at a quad-core base frequency of 4.0 GHz, which comes with Intel Turbo Boost 2.0 Technology which gives users an extra burst of performance when needed.
Hyper-Threading Technology is one of the other reasons why the system is the most responsive yet. With Hyper Threading each processor core can work on two tasks at the same time, improving multitasking, speeding up the work flow and accomplishing more in less time.
Gaming Powerhouse Powered by NVIDIA® Pascal Architecture
Armed with the NVIDIA® GeForce® GTX™ 1070, this PC is the ultimate gaming platform. This card is built on the world's most advanced GPU architecture and incorporates technological feats such as 16nm FinFET technology, unprecedented high clock speeds and GDDR5X/GDDR5 high bandwidth memory to provide the fastest, smoothest, most power-efficient gaming experience yet.
Both the GeForce GTX 1080 and 1070 provide next-level performance in both VR and 4K. Plug-and-play compatibility with leading headsets makes it easy to start getting immersed in the world of VR.
Thunderbolt™ 3 –
The fastest 40 Gb/s single-wire connection
GIGABYTE ensures you won't be hindered by lack of connections. The backwards compatible Type-C Thunderbolt 3 can connect to Thunderbolt devices, displays and countless peripheral devices. It operates at 40 Gb/s, four times faster than USB 3.1. In practical terms, this means that you can transfer a 4K movie in less than 30 seconds.
This gaming PC leaves nothing to be desired. Having built-in 802.11ac and Bluetooth 4.2 gives users the freedom to use their devices and accessories wherever they wish—all operating faster than ever before. Gigabit Ethernet can help increase performance between compatible devices on your wired LAN, especially when large file transfers are involved.
Connecting the Future – USB 3.1 and USB Type-C™
Support for the latest USB 3.0/USB 3.1 and USB Type-C means users will be able to enjoy the speeds and ease-of-use the latest connection standards provide—no matter if it's the common USB Type-A or the latest reversible Type-C.
The Ultimate SSD & HDD Storage Combo
This GIGABYTE Gaming PC comes equipped with a 1TB HDD and a 240GB M.2 SATA SSD so gamers have the versatility to save large multimedia files on the hard drive and leave speed-critical software, such as the operating system (O/S), games, and video editing software, etc., on the SSD. Support for two 2.5" SSDs or HDDs with two SATA3 connections and an M.2 SSD, with an M.2 slot using PCIe/SATA3 connections the GIGABYTE Gaming PC ensures that it can fulfill both speed and storage space demands for even the most demanding gamers.
Customizable Ambient LED System
To add additional effect GIGABYTE has included on the GIGABYTE PC a halo of RGB LEDs, this ring of LEDs can be controlled via the GIGABYTE Ambient LED Application from the GIGABYTE APP Center. Users can now actively modify their gaming atmosphere with various modes such as beat mode, pulse mode and still mode, bringing to life their own unique preferences.
Automated Exhaust Solution
To make this gaming PC even more unique, GIGABYTE created an automated exhaust solution where exhaust fins at the top of the unit open up to maximize airflow when the PC is being taxed.
Easy Cable Management
Instead of having the usual nest of cables that usually accompany PCs, this GIGABYTE Gaming PC makes it easy for users to route their cables, including audio, ethernet, power and video cables all through a single slot on the bottom creating an aesthetically pleasing environment and desktop.
Gigabyte BRIX GB-GZ1DTi7K-1070
Модель: BRIX GB-GZ1DTi7K-1070
Код производителя: GB-GZ1DTi7K
Тип товара: Компьютер
ID: 2486023
Описание
Видео обзоры (3)
Компактный игровой компьютер Gigabyte Brix (GB-GZ1DTi7-1070-NK-GW)
A Modded PS3 or a PC!? Gigabyte Gaming GT Review
GIGABYTE PC – GT Series – Installation Tutorial
Характеристики (19)
| Параметр | Значение |
| --- | --- |
| Тип процессора | Intel Core i7 |
| Частота процессора | 4200 |
| Тип памяти | DDR4 |
| Размер оперативной памяти | 16 |
| Объем жесткого диска | 1000 |
| Твердотельный диск (SSD) | Да |
| Тип оптического привода | Нет |
| Тип видеоадаптера | Дискретная |
| Видеопроцессор | NVIDIA GTX 1070 |
| Размер видеопамяти | 8192 |
| Выход HDMI | есть |
| Интерфейс USB 3.0 | есть |
| Интерфейс USB 3.1 | есть |
| Интерфейс Thunderbolt | есть |
| Wi-Fi | есть |
| Bluetooth | есть |
| Мощность блока питания | 400 |
| Операционная система | Windows 10 Домашняя |
| Типоразмер корпуса | Midi-Tower |
Цены на Яндекс.Маркет
Сравнить цены (2)
Как купить или где мы находимся +
«СкидкаГИД» — это сервис сравнения цен в магазинах, кэшбэк сервис и помощь в выборе товаров, посредством подборки видео обзоров, отзывов и сравнения товаров. Большинство магазинов, представленных на сайте, осуществляют доставку по России, поэтому выгодно пользоваться онлайн заказом на сайте этого магазина (доставляются ли заказы в ваш регион, можно узнать на сайте выбраного магазина). Чтобы купить выбранный товар, необходимо кликнуть кнопку «купить» на против выбранного магазина и продолжить покупку на сайте этого магазина. Чтобы получить кэшбэк выполните теже действия предварительно зарегистрировавшись.
Цена от 116205 руб до 127090 руб в 2 магазинах
Магазин
Цена
Наличие
КЕЙ

Скидка 5% за оплату онлайн

AliExpress
Поискать на Ali
Беру

Бесплатная доставка от 2 499 ₽

Поискать на OBI
eBay
Поискать на eBay
Кэшбэк сервис СкидкаГИД
Купить в соседних городах
Купить в кредит
Компания
Предложение
Карта рассрочки «Совесть»

заявка на карту
Беспроцентная рассрочка до 300 000 ₽ на срок до 12 месяцев на любой товар. КИВИ Банк (АО), лицензия Банка России № 2241.
Кредитная карта Альфа-Банк
заявка на карту
Беспроцентный период – до 100 дней. Выпуск кредитной карты – бесплатно
Кредитная карта Тинькофф – Platinum
заявка на карту
Сумма кредита – до 300 000 рублей. Беспроцентный период – до 55 дней!
Home Credit Карта рассрочки "Свобода"
заявка на карту
До 12 месяцев – период рассрочки на покупки у партнеров; 0% – процент на покупки в рассрочку; Бесплатно – оформление и обслуживание карты; 40 000 магазинов партнеров.
Тинькофф (Дебетовая карта)
заявка на карту
До 10% на остаток по счету; Бесплатное снятие наличных в любом банкомате мира; Cashback до 30% за покупки по спецпредложениям; Для граждан любых стран.
Совкомбанк
заявка на карту
Кредит наличными в Совкомбанк: Сумма кредита – от 5 000 до 100 000 рублей; Срок кредита – 12 месяцев; Процентная ставка – от 12% годовых; Возраст – от 35 до 85 лет.
РОСБАНК
заявка на карту
Cashback: – от 2 до 10% — на 2 выбранные категории – 1% — на остальные покупки в зависимости от общей суммы с начала месяца
Банк «Открытие»
заявка на карту
Opencard: кэшбэк до 11% на любимые категории или 3% за все покупки; до 500 000 руб. снятие без комиссии в любых банкоматах; бесплатное обслуживание; бесплатные переводы с карты на карту и платежи; до 6,5% доход на остаток по счету «Моя копилк
Локобанк
заявка на карту
ЛокоБанк Потребительские Кредиты: Кредит до 5 000 000 рублей; Ставка от 9,4%; Срок до 7 лет;